Pressure belt filters
Filtration solutions for the treatment of cooling lubricants.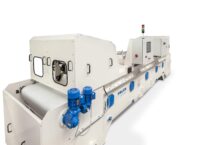 Belt filter systems

:

pressure belt filters (dbf)

Pressure belt filters are often used in the cleaning of cooling lubricants, for example in the metalworking industry. An essential process in metalworking is, among others, mechanical processing, such as machining or grinding. Due to the friction between the tool and the work piece, heat is generated during machining and chips and metal particles are produced. So-called cooling lubricants are used to reduce the heat generated and to remove the chips and metal particles. Such work fluids must be thoroughly cleaned so that optimum cooling and lubrication performance can be achieved during the work process. Careful cleaning not only decisively extends the service life of the cooling lubricants, but also considerably protects the environment at the same time. In addition, cooling lubricant cleaning contributes to achieving better surface qualities during machining as well as greater cost-benefit efficiency.

The FAUDI pressure belt filter is ideal for the cleaning of cutting, grinding and rolling oils, emulsions and aqueous solutions. This filter is universally applicable and can be optimally adapted to the respective conditions due to its modular design.

Depending on the material which has to be cut and the filter material used, the separation range is between 30 and 100 μm. The optional precoating of the pressure belt filter with additional filter aids enables filter fineness of up to 10 μm.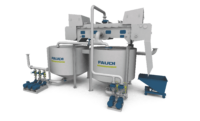 How does a
pressure belt
filter work?
The pressure belt filter is a fully automatic cooling lubricant filter, which consists of two chambers; the upper and the lower box. The dirt chamber is the upper section of the pressure belt filter and is divided from the clean side consisting of the bottom box by a slotted sieve on which the filter fleece or endless belt rests. There are two hinged openings on the front sides of the upper box, which are opened and closed pneumatically by toggle joints. These openings are needed for dirt discharge. During filtration, the openings are closed and the filter belt is fixed by an internal lifting bar.
Filtration
Filtration is performed discontinuously by the filter pumps, which feed the upper chamber of the pressure belt filter from the dirt tank of the plant through the connecting pipelines. The contaminated liquid flows through the slotted sieve and the filter belt. In this process, dirt particles are separated from the filter belt and a filter cake is formed. Through this filter cake, increasingly finer dirt particles are retained. The cleaned medium flows from the drain at the lower box into the clean tank.
Benefits

:

Your advantages
at a glance
High throughput capacity

Easy discharge of the filter cake with low residual moisture due to drying before discharge

Short regeneration time

Precoating possible

High economic efficiency

Good maintenance possibility

Use of different plastic fabrics possible

New extremely pressure-resistant design

Combination of plastic belt and filter fleece possible
Industries

:

Where they are used
References

:

Projects with pressure belt filters