Return pump stations
Filtration accessories for the treatment
of cooling lubricants.
Component parts

:

Return pump stations

FAUDI return pump stations are the optimal solution to ensure the automated return transport of contaminated cooling lubricants from the machine tool to the filter system. They can be connected to an existing plant park or even individual machines.

Individual tank shapes and pump types are possible.

The FAUDI return pump station can be individually adapted to your requirements due to its design and small space requirement.
Benefits

:

Your advantages
at a glance
Fully automatic cooling lubricant and chip transport

Low space requirement due to individual design

Return pump station adaptable to existing machine tool or new machine tool

Simplified modification of the return pump station from decentralized to centralized filter systems

Individual solution variant possible

High economic efficiency due to low investment costs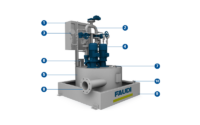 Design layout
Return pump stations
The return pump station consists of the following components:
1. Control cabinet
2. Internal piping with shut-off valves (manual + automatic)
3. Pump pressure gauge
4. Lifting pumps
5. Liquid tank
6. Liquid level sensor
7. Maintenance flap
8. Inlet
9. WRL safety tank
10. WRL alarm sensor
How does a return
pump station work?
The chips and the cooling lubricant pass from the machine tools into the tank of the return pump station. The return pump of the return pump station transports the cooling lubricant mixture evenly through a return line to the filter system.
Start into your next
PROJECT WITH US now
We are your contact for engineering, piping design as well as monitoring and control.
Return pump stations
Data and facts

:
Processing types

Machine tool and grinding processes

Fluids

Oil and water-miscible cooling lubricants

Output

Individually adjustable from
40 – 1500 l/min depending on cooling lubricant
Industries

:

Where they are used
Application areas

:

How they are used
Green return pump stations

Return pump stations
Request & consultation
Start your next project now
Matching FAUDI solutions

:

compatible products