chip containers
Innovative waste recycling.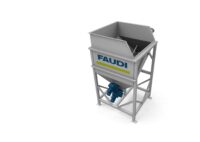 Chips and sludge treatment
chip containers
A chip container is used to store chips, grinding sludge or other waste materials generated during the machining of metals, plastics or other materials. These waste materials are typically created, when cutting, grinding, turning or milling parts are produced by the use of machine tools.
Benefits
your advantages
at a glance
Workspace is kept clean

Optimized efficiency in chip processing

Sustainability through chip recycling

Continuous press utilisation

Workspace safety
Design layout
Chip containers
The chip container consists of the following components:
1. Filling funnel
2. Chip container
3. Screw conveyor
4. Discharge
5. Stir shaft
6. Stirring blade
7. Drive units
8. Steel frame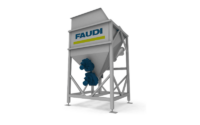 How does a chip bunker work?
The purpose of a chip bunker is to collect and store these waste materials until they can be disposed of. Chip containers are usually used in factories and workshops where metal or plastic parts are machined. They help keep the workspace clean and minimise contamination from chips and other waste.
They can be filled using forklifts, lifting and tipping devices or conveyors.
FAUDI chip containers are available in various sizes and shapes, depending on the requirements of the respective application. They are made of steel and are usually combined with our scraper conveyors or screw conveyors to act as a complete system for processing metal chips. In this way, your waste can be recycled and returned to the production process. A closed cycle is guaranteed and expensive disposal costs are avoided.
Start into your next
PROJECT WITH US now
We are your contact for engineering, piping design as well as monitoring and control.
Chip containers
Data and facts
400-2,000 l filling volume

Available with mixing device and discharge conveyor if required

Low wear for highly resistant materials
Branchen
Wo kommen sie zum Einsatz
Request & consultation
Start your next project now
Matching FAUDI solutions
compatible products