inclined belt filters
Filtration solutions for the treatment
of oils, emulsions and water.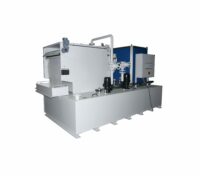 Belt filters

:

inclined belt filters (SBF)

Inclined belt filters are ideal for cleaning low-viscosity liquids, especially coolant lubricants. Depending on the application, inclined belt filters with fibre nonwovens (Type SBF-V) or with endless plastic belts (Type SBF-E) are used. They are especially suitable for use in particularly close quarters or for high filtration capacities and are an ideal solution for decentralized filtration systems on the machine tool. FAUDI inclined belt filters can, of course, also be delivered as complete and fully automatic filtration systems either in steel or stainless steel, as desired. The filtration capacity depends on the filter size and the filter medium. A filtration capacity of 30 l/min to 800-1,000 l/min is possible.
Benefits

:

your advantages
at a glance
Individual filter systems
according to customer requirements

Many components available

Flexible design as desired
by the customer

Conventional or with PLC

Increased throughput capacity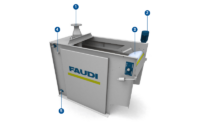 Design layout
Inclined belt filters (SBF)
The inclined belt filter consists of the following components:
1. Filter inlet
2. Drive engine
3. Nonwoven or continuous belt
4. Flushing device connection (for SBF-E)
5. Pressure sensor connection (for SBF-E)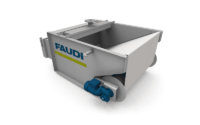 how does an
inclined belt
filter work?
Each inclined belt filter consists of a steel plate housing, equipped with a perforated plate leading diagonally upwards to the swarf conveyor. The filter aid is nonwoven or a continuous belt made from plastic which is arranged in the housing. The flow velocity of the fed liquid is reduced severely in the inlet box, so that the liquid can flow calmed into the filter housing. The gravity causes the through-flow of the filter aid. Thereby, the filter aid separates the pollutants and a filter cake is formed. This filter cake retains more and more fine impurities. Step by step the formation of the filter cake reduces the discharge and the liquid level in the housing rises until the float switch actuates the feed of the filter aid. Now clean filter aid is pulled to the bottom of the perforated plate and pollutant from the filter is discharged at the same time. The liquid level falls and the feed is stopped. The operation restarts. The cleaned liquid is available again for the process.
Start into your next
PROJECT WITH US now
We are your contact for engineering, piping design as well as monitoring and control.
Inclined belt filters (SBF)
Data and facts

:
Filtration fineness

30 µm – 100 µm

Fluids

Oils, emulsions and water

Filter material

Fibre nonwoven/belt

Filter surface area

Max 1.4 m²
Industries

:

Where they are used
Request & consultation
Start your next project now
Matching FAUDI solutions

:

compatible products