Layer filters
Filtration solutions for the treatment
of seawater and process water.
Bed filters

:

Layer filters (P62)

Water is a valuable resource and an increasingly scarce property due to growing demand from the population, industry, energy production and agriculture. Therefore, water treatment plays an important role in the availability of drinking and process water in long-term. FAUDI offers modular filtration solutions, such as the layer filter, for partial water treatment tasks.

The layer filters, also called dual or multi-media filters, are used to reduce the suspended solids (turbidity) content in seawater or process water. Suspended solids consist of small particles such as sludge, clay, grit, organic substances, algae and other microorganisms. Feedwater with high levels of suspended solids can cause a high-pressure loss and affect the effectiveness of downstream equipment and processes.

Filtration takes place by physically restraining contaminants in the intermediate spaces between the granules of the individual filter layers. Regeneration is accomplished by means of back flushing.

Application areas for this filtration technology is the filtration of seawater for desalination, as service and cooling water as well as the use as injection water. Furthermore, in the filtration of industrial water, waste water and process water as well as in the bypass filtration in cooling circuits.

We are able to complement our standard sizes in welded construction as needed with project-specific products using adapted dimensions and materials – tailored to your application, both for fresh and salt water.
Benefits

:

Your advantages
at a glance
Very high filtration rates
up to 50 m³/h m²

High dirt holding capacity (500 mg/l)

Very low backflush water consumption of 0.1% to 1%

Continuous, fully automatic operation

Exceptional filtration quality due to matched filter media

Long service life of the filter media

Low space requirements

Modular design and ready-to-use
units or skids
Design layout
Layer filters (P62)
The layer filter consists of the following components:
1. Filter inlet
2. Filter outlet
3. Backwash inlet
4. Backwash outlet & drain
5. Filter housing with filter layers (2-4 layers)
6. Piping with fittings and instrumentation
3x 50% configuration (2x in operation, 1x stand-by)
Steel structure with operating and maintenance platform is not shown in the picture due to visibility.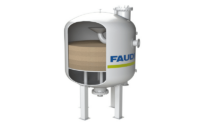 How does a layer
Filter work?
A dual or multi-media filter typically contains two or more layers of filter media consisting of anthracite charcoal, sand, garnet, etc., plus a supporting (non-filtering) support layer at the bottom. The larger (but lighter) anthracite is on top and the heavier (but smaller) garnet remains at the bottom. The layers of filter media allow the largest dirt particles to be removed from the top of the media bed, with the smaller dirt particles being retained further and further down in the media. This allows the entire filling to act as a filter, allowing much longer filter run times between back flushing and more efficient particle removal.
Water flows through several layers of different grain size from the top to the bottom. During this process, sediments/contaminants are retained in the filter bed.
Due to the increasing contamination of the layer filter, the differential pressure in the filter bed increases and flushing becomes necessary. For this purpose, the layer filter is back flushed in counterflow and the impurities will be washed out. Due to the different densities and grain sizes of the media, the formation of the filter layers is maintained after back flushing. The back flushing can be initiated manually or automatically, by pressure monitoring, as well as quantity or time controlled.
Start into your next
PROJECT WITH US now
We are your contact for engineering, piping design as well as monitoring and control.
Layer filters (P62)
Data and facts

:
Filtration fineness

0.3 µm – 10 µm

Fluids

Process and surface water, river and sea water

Filter material

Charcoal, sand, grit

Filtration capacity

Filtration capacities from 50 m³/h to 750 m³/h per individual housing are possible.
The filtration capacity depends on the filter size and the filter medium.
Industries

:

Where They are used
Application areas

:

How they are used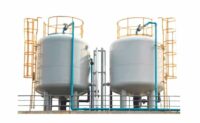 Request & consultation
Start your next project now
Matching FAUDI solutions

:

compatible products