filter Separators
Filtration solutions for the treatment of
process liquids and gases.
Separators

:

filter separators (p45)

During storage, transportation, distribution and processing of natural gas and other gaseous media, it is often necessary to clean these media by filtration and separation of solid and/or liquid contaminants. This is especially true for energy supply and here the demand for environmentally friendly, gaseous fuels will continue to increase.

FAUDI separators and filter-separators are used for these cleaning tasks. The cleaning/separation of solid and liquid contaminants is accomplished through built-in components such as filters and/or coalescer elements, lamella packets, demisters, multi-cyclone packets or a combination of installed components. The smallest particles, fine droplets and/or aerosols are separated.

FAUDI separators are characterised in particular by being project-specific using adapted dimensions and/or materials and are thus tailored to your use case.
Benefits

:

YOUR ADVANTAGES
AT A GLANCE
Very fine separation of particles
and liquid droplets

Suitable for use under
extreme temperature and
pressure conditions

Low pressure loss

Sour gas design to NACE or ISO

High dirt absorption capacities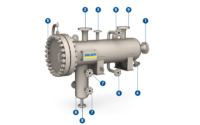 Design layout
Filter separators (P45)
The filter separator consists of the following components:
1. Separator inlet
2. Separator outlet
3. Vent
4. Partial discharge
5. Maintenance opening
6. Boot
7. Level measurement boot
8. Drain boot
9. Spare nozzles (optional)
how does a
Separator work?
In FAUDI separators and filter-separators, separation usually takes place in several stages. After the gas stream enters, larger liquid droplets and coarser mechanical contaminants are separated by gravity and impact effects. Fine particles and fine liquid droplets are separated in the next stage by means of filter and coalescer elements. Depending on the application and requirements, a lamella packet or demister can be installed as a further separation stage.
The separated liquid is collected in one or in divided collecting chambers of the separator. Cyclone or cyclone packet separators use the centrifugal principle to separate solid and liquid particles from the gas flow. The separated particles and droplets collect in the lower collection chamber of the separator. With these separators, the separation efficiency depends on the density of the contamination and the flow rate.
Start into your next
PROJECT WITH US now
We are your contact for engineering, piping design as well as monitoring and control.
Filter separators (P45)
Data and Facts

:
Separation performance

Particles: down to 0.3 µm
Droplets: down to 1 µm

Fluids

Process gases, natural gases

Filter material

Coalescer elements, filter elements, lamella packets, demisters and cyclones

Flow rate capacity

50 Am³/h to 20,000 Am³/h
Industries

:

Where they are used
Application areas

:

how they are used
gas purification platform compressor station, dust collector and filter separator

FAUDI Coalescer type 45

FAUDI Coalescer type P45
Request & consultation
Start your next project now
Matching FAUDI solutions

:

compatible products