Module filters
Innovative filtration & separation solutions
for the highest demands in refinery operations.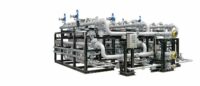 Automatic filters

:

Module filters
(F27, F28, F29)

In downstream processes of the oil and gas industry, for example in amine processing or in processes in which crude oil is processed into finished, marketable petroleum products such as kerosene, diesel, lubricants, gasoline, etc., reliable filtration at maximum flow rates is required. Module filters with automatic backflushing offer an almost maintenance-free and high-performance solution, which regenerates reliably without the use of consumables. Guaranteeing effective regeneration with a continuous and consistently high filtration performance is a technically demanding challenge which is made possible by FAUDI modular filter systems. Due to the modular design of FAUDI's automatic modular filter systems, not only the dimensioning of the filters can be optimally adapted to customer-specific applications, but also an effective and sustainable regeneration can be guaranteed.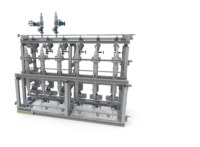 How does a module
filter work?
Filtration:
The medium which has to be filtered passes through the header pipe and is evenly distributed to the filter modules arranged in parallel. Inside the filter modules are several cylindrical filter elements on which the medium flows from the outside to the inside. The impurities are deposited on the outer surface of the filter element and form a layer. The filtered medium then exits the filter module as a cleaned medium and flows into the outlet header pipe.
Backflushing process:
In the course of filtration, the differential pressure increases due to the growing dirt layer on the outer surface of the filter element. As soon as the specified differential pressure is reached, upstream valves isolate the filter module which is to be cleaned from the filtration process and initiate the self-cleaning process by backflushing. The remaining operative filter modules ensure continuous filtration operation.
FAUDI Module filter RSFA Type 29: Backflush with internal medium
The RSFA Type 29 uses a certain amount of filtrate (system medium) in reverse flow to regenerate the filters.
FAUDI Module filter RSFA Type 28: Backflush with external medium
If the loss of filtrate is unacceptable for cost reasons or the filtrate is critical and if the operating pressure and flow rate are too low, FAUDI's RSFA Type 28 is the ideal solution. The operation is similar to the RSFA Type 29, but backwashing is done with an externally supplied liquid.
FAUDI Module filter RSFA Type 27: Gas assisted backflushing
The RSFA Type 27 from FAUDI uses inert gas (e.g. nitrogen gas) to support the backwashing process. The filter elements are impulsively flushed by the system medium, which has been pressurized by the inert gas, against the direction of filtration and hence effectively cleaned.
Benefits

:

Your advantages
at a glance
Fully automatic and continuous filtration

Modular design with high adaptability to the process

High flexibility for modification and modernization

Filter elements with maximum active filter area to optimize flow rate and surface loading (flux rate)

Optimal and reliable regeneration due to small filter units

Durable and low maintenance

No consumables, such as single-use filter cartridges/patrons
Data and facts
F29/F28/F27

:
Filtration fineness

F29: 20-100 µm, F28: 10-100 µm, F27: 3-50 µm

Fluids

Amine solutions, gas oil, diesel fuels, naphtha and similar liquids in refineries

Filter material

Slotted tube filter cartridges, wire mesh element, sintered filter elements (F27)

Filtration capacity

F29/F28: 15-500 m³/h,
F27: 5-500 m³/h
Industries

:

WHERE THEY ARE USED
Application areas

:

How they are used
FAUDI module filter

FAUDI module filter

Module filter system type F29 for HCGO filtration

Module filter system type F29 for HCGO filtration

FAUDI module filter system

FAUDI module filter system

FAUDI module filter system
Start into your next
PROJECT WITH US now
We are your contact for engineering, piping design as well as monitoring and control.