mesh pad separators
Filtration solutions for the treatment
of process liquids and gases.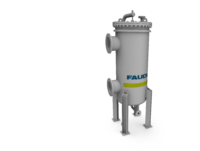 SeparatorsMesh pad separators (P51)
Demisters, also known as mesh pad separators, are used in a wide variety of applications in most industrial sectors worldwide.
FAUDI demisters are used in process engineering plants where they are applied to separate liquid droplets from gas, air or steam flows and for the phase separation of liquids.
FAUDI offers an application-oriented, practical and economical solution for these tasks in the form of the mesh pad separator. These separators offer a high level of separation performance even under elevated temperature or pressure conditions.
We are able to complement our standard sizes with in construction as needed with project-specific products using adapted dimensions and materials – all tailored to your use case.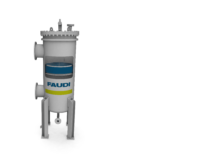 how does a mesh
pad separator
work?
In the FAUDI demister, the main separation mechanism is the inertia of the liquid droplets. The gas with the droplets flows through the wire mesh with multiple deflections. Due to the many changes of direction and the moment of inertia of the droplets, they collide with the wire surface and collect at the nodes of the wire mesh. The collected liquid droplets then fall downwards as larger drops into the collection chamber of the separator.
The application of mesh pad separators depends on the droplet loading and droplet size distribution in the gas phase, the required separation efficiency, the pressure drop and the solids loading of the gas flow.
Benefits

:

your advantages at a glance
Fine degree of separation of
liquid droplets

Suitable for use under extreme temperature and pressure
conditions

Low pressure loss

Insensitive to contamination

Uncomplicated installation and maintenance
Separation performance

3 μm to 100 μm droplet size

Fluids

Air, process gases, liquids

Filter material

Mesh pad packet of stainless
steel, plastic or metal/plastic
combinations

Flow rate capacity

Gases: 100 Am³/h to 10,000 Am³/h,
Liquids: 5 m³/h to 300 m³/h
Industries

:

Where they are used
Application areas

:

how they are used
Faudi Demister- Drahtgestrickabscheider

Drahtgestrick

Teil von Drahtgestrickabscheider
Start into your next
PROJECT WITH US now
We are your contact for engineering, piping design as well as monitoring and control.