Screw presses
Optimal solutions for the reduction of production waste.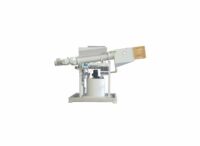 Chip and sludge treatment

:

Screw presses
(FSP)

In the metalworking industry, grinding sludge or other types of sludge are produced as a result of the process and must be disposed on an expensive basis. The high proportion of liquid in the grinding/sludge is problematic and thus partly responsible for the high disposal costs. Additional costs are caused by the new procurement of the disposed liquid quantity. FAUDI screw presses can significantly reduce these costs. This is done by compacting the sludge in the screw press. The volume which has to be disposed is being reduced and at the same time a large part of the liquid can be recovered and immediately returned to the production. FAUDI screw presses are an ecological and economicalsolution to significantly reduce your production waste. They can be optimally used as an economical stand-alone solution or as an upgrade to all commercially available filter systems from other manufacturers. It can be designed as a rack system or as a neck system. They can also be combined with briquetting presses only as an additional module to increase their throughput. Benefit from our screw presses in recyclables recovery, dewatering, de-oiling and many other processes.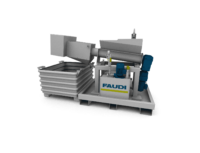 How does a
screw press
work?
The material which has to be dehumidified will be placed into the hopper. The rotational movement of the screw conveys the material into the dehumidification area. The dehumidification section consists of a slotted sieve cylinder, whose outlet opening is closed by a spring-loaded pressure plate. The permanent supply of material causes compaction of the material in the dehumidification area and the liquid will be squeezed out. This liquid can drain through the drain hole and be reused. Due to the increasing pressure in the dehumidification area, the pressure plate is displaced, the dehumidified material falls into the container, and then the pressure springs press the pressure plate back against the dehumidification area and close the outlet opening. Optionally, the dehumidification screw can be equipped with a return pump station.
Benefits

:

Your advantages
at a glance
Avoidance of cost-intensive disposal of raw materials

Separation of residual oils and emulsions from other residual materials make them usable

Saving of fresh oils and emulsions

Individual solution design

Reduction in transport and disposal volumes

Can be used as an economical stand-alone solution

Can be used in the upstream stage of FAUDI briquetting presses

Can be optimally combined with FAUDI filter systems

Can be adapted as a process-optimizing upgrade to all commercially available filter systems from other manufacturers
Achievable residual humidity:

up to 30 %

Throughput performance:

up to 450 kg/h

Hutch diameter:

150 – 250 mm
Industries

:

Where they are used
Application areas

:

How they are used
FAUDI screw press

FAUDI screw press
Start into your next
PROJECT WITH US now
We are your contact for engineering, piping design as well as monitoring and control.