Screw presses
Optimal solutions for the reduction of production waste.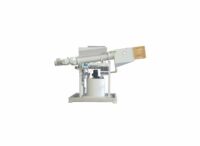 Chips and sludge treatment

:

FAUDI Screw presses
(FSP)

Optimize the sustainability and economic efficiency of your production process in the metalworking industries with FAUDI screw presses:
reduction of the volume and thus the disposal costs of (grinding) sludge,
recovery and utilisation of the liquid in the residues,
reduction of the consumption of fresh oil and emulsions.
Benefit from our many years of experience as a manufacturer of screw presses and support your recycling, dewatering, de-oiling and many other processes.
Sustainable & economical

:

Your advantages with FAUDI screw presses
Environmental solution
Our screw presses enable the recovery of a significant portion of the liquid from your grinding and other process-related sludges. These can be reintroduced into the production immediately. This establishes a more closed cycle and significantly reduces the need for fresh oils and emulsions.
High cost saving
By compacting the sludge in the press, the volume of your production residues is significantly minimised. This reduces the usual high costs of residue disposal. In addition, the costs of procuring new liquid are avoided, as a large proportion can be recovered and reused.
Individual application
Our screw presses can be used both as a cost-effective standalone solution and for retrofitting filtration systems from all common manufacturers, either as a frame or extension unit. Alternatively, you can increase the throughput of your briquetting press with a screw press as an additional module. We are happy to advise you on your specific application.
Request your press now
We would be pleased to consult you on configuration and application possibilities as well as on the price and installation of your individual screw press.
Performance of our screw presses
Data and facts

:
Achievable residual humidity:

up to 30 %

Throughput performance:

up to 450 kg/h

Trough diameter:

150 – 250 mm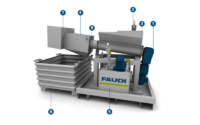 Design layout
Screw presses (FSP)
The screw press consists of the following components:
1. Gear motor
2. Filling funnel with level control
3. Trough with screw conveyor
4. Dehydration area
5. Return pump station
6. Container
7. Sludge discharge
8. Return flow liquid
We will gladly recommend the ideal configuration and the areas of application for our presses.
Advantages at a glance

:

Benefit with our screw presses
Avoidance of cost-intensive disposal of raw materials

Separation of residual oils and emulsions from other residual materials make them usable

Saving of fresh oils and emulsions

Individual solution design

Reduction in transport and disposal volumes

Can be used as an economical stand-alone solution

Can be used in the upstream stage of FAUDI briquetting presses

Can be optimally combined with FAUDI filter systems

Can be adapted as a process-optimizing upgrade to all commercially available filter systems from other manufacturers
Request consultation
Together we will find the best solution for the use of our screw presses for your environmentally friendly and cost-effective production.
Industries

:

This is where our presses are used
Request & consultation
Let us optimize your production
Matching FAUDI solutions

:

Compatible products