Cartridge filters
Flexible filtration solution with a wide range of applications.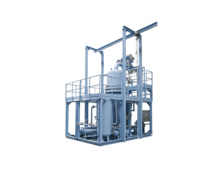 Cartridge filters
cartridge filters
(C24/C34/C37)
FAUDI cartridge/candle filters are a very frequently used filter type across all industries. Regardless of whether they are applied for liquid or gaseous media, FAUDI candle filters are used in areas where fine to very fine impurities are to be filtered out of fluids. The cylindrical filter elements, which often remind a candle, give the filter its name. Apart from the cylindrical shape, there are almost no limits to the design of the filter cartridges. Application determines if filter cartridges are used for surface or depth filtration. The structural design and materials vary depending on the filtration task, dirt-holding capacity, medium or temperatures. Cartridge filters can be designed with regenerable or single-use elements. An adjustable modular system allows the FAUDI cartridge filter to be optimally matched to the process and the customer's needs. This flexibility is also reflected in the design of the filter housings in terms of operating parameters, materials and their additional equipment.
Benefits

:

:

your advantages at a glance
Great adaptive capacity to the
customer process

Robust and user friendly

High filtration quality and dirt
holding capacity

For use as pressure or suction filters

High sustainability possible due to regenerable filter cartridge design

Inline version (inlet & outlet nozzles
at the same height possible)

Horizontal or vertical installation
position possible

Suitable for liquids, gases and steam
Design layout
Cartridge filters
(C24/C34/C37)
The cartridge filter consists of the following components:
1. Filter inlet
2. Filter outlet
3. Filter cartridges
4. Insert plate for element support
5. Clean chamber
6. Dirty chamber
how does a
cartridge filter
work?
The medium to be filtered enters the dirt chamber of the filter through an inlet nozzle, flows through the upright or suspended filter cartridges from the outside to the inside and exits cleaned through the outlet nozzle. Carried impurities which particle size exceeds the filter fineness are retained on the surface or in the depth structure of the filter cartridge, depending on the filter type. The dirt particles retained by the filter cartridge cause an increase in the differential pressure between the dirty and clean sides of the filter. At a set differential pressure, the filter cartridges must be replaced or regenerated if possible.
C24 cartridge filters:
Cartridge filters with suspended filter cartridges
C34 cartridge filters:
Cartridge filters with FAUDI microfilter cartridges, with increased dirt-holding capacity, also for the filtration of gases
C37 cartridge filters:
Cartridge filters with upright filter cartridges
Start into your next
PROJECT WITH US now
We are your contact for engineering, piping design as well as monitoring and control.
Cartridge filters (C24/C34/C37)
Data and Facts
Filtration fineness

0.3 – 100 µm

Fluids

Liquids, gases and steam

Filter material

Filter cartridges, smooth, wounded or pleated. Materials: cellulose, PP, PA, PES, cotton, fibre glass, stainless steel (C34, C37)
filter cartridges with/without stainless steel wire mesh,
sintered or ceramic cartridges (C34)

Filtration capacity

5 m³/h to 1,500 m³/h for liquids;
50 m³/h to 20,000 m³/h for gases
Industries

:

:

Where they are used
Request & consultation
Start your next project now
Matching FAUDI solutions
compatible products