roller separators
Filtration solutions for the separation of ferritic contaminants
and chips in liquids.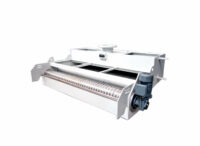 Magnetic separators

:

roller separators (Ma)

FAUDI roller separators are used for separating ferritic contaminants and chips in liquids. Typical areas of application are for cold rolling, processing steel and cast iron as well as cleaning sinter water.

FAUDI roller separators are used as a pre-cleaning stage in filter systems with high demands for filtration quality. This relieves the burden on the downstream ultra-fine filter and increases its service life while reducing the consumption of filter aids. For low filtration quality requirements, FAUDI roller separators can also be used without additional filter technology. They can be installed either in the primary or the secondary flow. Depending on the filter size and the filter medium, a filtration capacity of 50 l/min to 1,500 l/min can be achieved.
Benefits

:

YOUR ADVANTAGES
AT A GLANCE
Greater volumetric flow rates also
possible through parallel installation

Robust technology

Roller widths of 10 to 1,500 mm

Effective separation

Wear- and corrosion-resistant steel
and stainless steel construction

Entire installation autarkic
applicable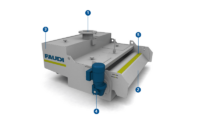 Design layout
Roller separators (MA)
The roller separator consists of the following components:
1. Inlet
2. Discharge
3. Inlet box
4. Drive engine
5. Scraper
how does a roller separator work?
Contaminated medium is supplied to the magnetic separator through an inlet basin / distribution device.  The inlet box reduces turbulences so that a calmed, constant flow exists – for the heavy units. The magnetic rotor retains magnetic dirt particles; the magnetic field is effective over the total width. Pollutants constrict the flow gap and retains also
non-magnetic particles. The switching of the magnetic rotor will be activated by the increasing and decreasing liquid level in the inlet basin and at the level switch. The magnetic rotor which is slowly revolving against the current carries the pollutant to the scraper. The scraper sorts out the particles from the rotor which will be discharged outwards over the discharge plate.
Start into your next
PROJECT WITH US now
We are your contact for engineering, piping design as well as monitoring and control.
Roller separators (MA)
Data and Facts

:
Filter aid

Without filter aid

Medium

Oils, machining emulsions

Filter material

Magnetic roller

Construction and system

Mechanically uncomplicated, space-saving, compact system that is easy to maintain and operate
Industries

:

where they are used
Application areas

:

how they are used
FAUDI magnetic separator_roller separator_type MA

Roller separator_MA160_42
Request & consultation
Start your next project now
Matching FAUDI solutions

:

compatible products