Scraper conveyors
Accessories around the filtration technology.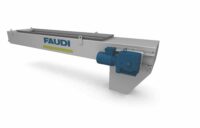 Component parts
Scraper
conveyors (FKF)
Scraper conveyors can be used in many areas of industry due to their purpose-built construction and robust design.
They are designed for conveying metal chips, scrap, forged, stamped and other small parts as well as for transporting special bulk materials such as chemically aggressive goods or similar.
We offer different models of scraper conveyors. They are different in their design and the conveyor device.
Benefits

:

Your advantages
at a glance
Material transport over small or large distances

Loading and unloading at any point

Multiple use in various industrial sectors

Transportation of various bulk materials in large quantities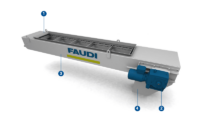 Design layout
Scraper conveyors (FKF)
The scraper conveyor consists of the following components:
1. Feed area (according to specification)
2. Gear motor (adjustable)
3. Frame housing with lifting lugs and screwed cover
4. Discharge shaft
How does a scraper
Conveyor work?
In this design, scraper irons guided in the center are moved in a conveyor trough with the help of two side chains. The scraper bars travel along the bottom of the conveyor, pushing the chips ahead of them until they are ejected.
Z-Version
Z-type conveyors are used to change the conveying level. The chips fall into the conveyor through the feed. The scraper bars drive off the floor and take the chips with them. At a previously defined point, the chips are now conveyed to the target plane at an angle of 45° to max. 60°. Finally, the chips fall out of the conveyor through the ejector.
Straight version
Conveyors of straight type are used to enable linear conveying lines. A chain driven by a gear motor guides the scraper bars along the bottom of the conveyor, transporting the chips to the discharge shaft. This is where the chips fall out of the conveyor.
Start into your next
PROJECT WITH US now
We are your contact for engineering, piping design as well as monitoring and control.
Scraper conveyors FKF-63-Z-500/FKF-38,1-Z-500/
FKF-63-G-500/FKF-38,1-G-200
Data and facts

:
Total width

FKF-63-Z-500: 500 mm
FKF-38,1-Z-500: 275 mm
FKF-63-G-500: 500 mm
FKF-38,1-G-200: 275 mm
Industries

:

Where they are used
Application areas

:

How they are used
Scraper conveyor-Rendering

Scraper conveyor
Request & consultation
Start your next project now
Matching FAUDI solutions

:

compatible products