Gas treatment in the
Energy production industry
Innovative industrial gas filters for gas drying and separation.
Highest quality for your gas treatment
System solutions for the treatment of natural gas, biogas and other fuel and synthesis gases
Gas treatment is an integral part of a large number of industrial processes and also plays a crucial role in energy production. Industrial gas filters are used, for example, in exploration, transport and storage or in the processing and cleaning of gas, as well as in the operation of energy production plants. They are applied, for example, for gas drying and/or the removal of particle contaminants.
Our innovative coalescers, mesh pad separators and cartridge filters are effective liquid separators and gas cleaners. They filter various technical gases such as fuel gas, heating gas, synthesis gas and many others and ensure compliance with applicable quality standards. They can be adapted for a wide range of operating requirements – we will be glad to consult you on your individual system solution.
Industrial gas treatment by FAUDI
This is what our gas filter systems do for you in energy production
Highest quality
Our particle filters/liquid separators ensure efficient separation and gas drying that fulfils the required purity levels. At the same time, our systems are characterized by durability and trouble-free operation.
Customized solutions
Gas treatment in energy production requires solutions for different gases, gas quantities and operating conditions. Our system solutions can be individually adapted to your requirements. Together with you, we will find the best solution.
Optimized processes
Optimize your energy production processes with our efficient gas treatment systems. Effective liquid and particle separation is the key to trouble-free and economical production.
Are you looking for the perfect system solution?
We will be happy to advise you on the selection of suitable filter systems for bio and natural gas treatment and for other gas filtration tasks.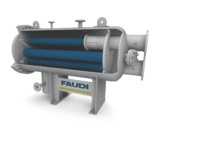 FAUDI coalescers
Our solution for the separation of liquid mists and gases
Our liquid gas coalescers are the separation solution for extracting liquid mists from gases as well as for removing gases from liquids. They are therefore an integral part of gas treatment – with a wide range of possible applications. We would be pleased to provide you with advice on the use of the separators in your gas production process.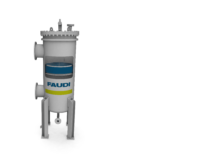 FAUDI mesh pad separators
Our solution for gas drying
Mesh pad separators use the inertia of liquid drops to collect them on a wire mesh inside and thus separate them from gases. This makes these liquid separators ideal for applications in gas drying systems. We will be pleased to supplement our solutions for you with project-specific modifications so that they are precisely tailored to your application.
FAUDI cartridge filters
Our systems for particle filtration
Our cartridge filter systems are suitable for the filtration of solids of various particle sizes. In gas treatment, they are therefore used for filtering out solid contaminants. Depending on the application, other filter materials and configurations are used – we will be glad to consult you on the best system solution for your gas treatment tasks.
What is gas filtration for?
Filtration is essential in all gas applications, as impurities can reduce efficiency and cause problems with production equipment. In energy production in combined cycle power plants, for example, fuel gas treatment is necessary to ensure maximum performance and service life of equipment and combustion chambers. Otherwise, sediments can be formed or nozzles and gaskets can be damaged.
In biogas production, filtration is mandatory to maximize the methane content and to protect membranes and compressors from corrosion and abrasion. The main components of biogas are methane and carbon dioxide, but it can also contain water, siloxanes, hydrogen sulphide and particles, among others. Therefore, particle filters as well as separators and systems for gas drying are used in biogas filtration.
Natural gas contains similar contaminants after extraction. Hydrogen sulphide filtration is therefore also necessary in natural gas treatment before the gas is used. The sulphur separated during the "washing" of the natural gas can also be reused. And here, too, aerosol filtration and gas drying are required.
In the course of the energy transition, hydrogen is also playing an increasingly important role. In hydrogen production, as well, filtration of solid contaminants and liquids protects the production facilities involved and maximizes efficiency.
These are just a few examples of the applications of gas treatment plants. We would be happy to advise you on how to increase the economic efficiency of your energy production with gas filtration.
Ranges of application in the energy production industry
Our services in the field of gas filtration
Gas drying/liquid separation

Separation of solids

Gas separation/phase separation

Engineering, consulting and service worldwide
frequently asked Questions about gas treatment
Let´s start your project
Feel free to contact us for more information on which of our products can help you with your gas filtration.