Water treatment in the food and beverage industry
Our variety of filtration solutions for water in food and beverage production.
Reliable water filtration in the food and beverage sector
Challenges in the production and processing of food and beverages
The requirements for water filtration in the food industry are complex. A wide variety of types of wastewater are generated in food production and processing, and product water in the beverage industry must meet the highest quality standards. FAUDI filters for water treatment in the food and beverage sector offer you innovative solutions for all types of product and process water. Our filters are used in industrial production and processing as well as in industrial kitchens. From the filtration of sludgy wash water with plant parts and soil, to denitrification and filtering out starch, to the treatment of particularly pure product water for beverages – we have the right filter solution for you.
Water filtration by Faudi
This is what our water filters can do for you in the food industry
Sustainability
By treating the water with FAUDI filters, a large part of the water used can be returned to the cycle – for environmental compatibility and cost efficiency.
Wide range of applications
From coarse filtration of sand, soil and plant residues to the finest filtration in beverage production – we have a filtration solution for you.
Highest quality
Our water filters meet the highest standards and ensure that you meet the strict requirements in the food and beverage industry.
Are you looking for the right filters?
We can help you choose the right water filter for your food and beverage production.
Faudi cartridge filters (Type C34)
Our solution for fine filtration
Cartridge/candle filters are frequently used across all industries when fine to very fine particles have to be filtered. The name is derived from the shape of the filters, which are similar to a candle. They are useful in food production and processing for surface filtration as well as for depth filtration. Since the structural design can be individually adapted for a wide range of filtration tasks, particle sizes, temperatures and dirt-holding capacities, it is suitable for many applications.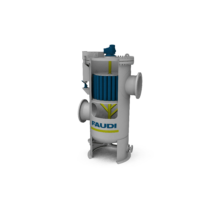 Faudi backflush filters
Our solution for the filtration of lubricants and oils
Backflush filters are ideal for the filtration of all liquids that are not water-miscible, such as cooling lubricants and oils. Due to the use of several filter cartridges, they do not require any filter aids and are self-cleaning. If one filter cartridge is too dirty, the backwash is activated and the dirt is drained off; meanwhile, the other cartridges are used. The number of filters can be individually adapted to the application. If you need advice on which configuration is best suited for which filtration task, please contact us.
Application areas

:

Our filter solutions for water treatment in the food and beverage sector
Filtering particles and suspended solids

Filtration of washing and
CIP water

De-sludging of wash water

Pre-filtration for ultrafiltration
Let´s start your filtration project
We will gladly recommend to you which of our products will help you move forward.