Briquetting solutions
for metal processing
Solutions for sustainable resource use in metal processing.
Optimize resource utilization through metal processing
For sustainable and economical use of secondary resources and closed production cycles
In all industries where metal processing and machining play a role, waste products such as metal chips and grinding sludge are unavoidable. They can reach a considerable volume – and do not necessarily have to be disposed of. However, through metal processing and the separation of residual oils and emulsions, a large proportion of the waste products can be reused as secondary resources. Our briquetting and screw presses are used for this purpose. With their help, you reduce cost factors in metal processing industries and contribute to sustainable recycling management.
From waste to recyclable material
This is what our presses do for you in the recycling process of metal processing
Cost efficiency
Processes in metal processing sometimes generate large quantities of waste materials. These products contain valuable raw materials that can be recovered with our solutions. You also reduce disposal costs and the consumption of fresh oil.
Sustainability
By using our solution for the processing of metal chips and grinding sludge, you contribute to production cycles that are as closed as possible. Recycling management benefits not only your company, but also the environment.
Highest plant quality
"Total Cost of Ownership" is an important benchmark for our engineers. Therefore, all our plants are built on the principles of "long lifetime", "trouble-free operation" and "safety". In addition, our know-how of many years is applied.
Are you looking for metal processing solutions?
We will be pleased to consult you on the selection of the right presses and the right configurations for your recycling management.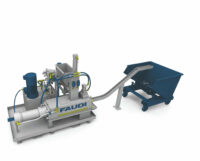 Faudi Briquetting presses
Our solution for sustainable metal recycling
Our briquetting presses convert residual materials from metalworking into solid briquettes that can be recycled later. A precompression unit and a main press cylinder are used for this purpose. By means of a position control system, our presses ensure that the briquettes have the desired length.
In our briquetting solutions, you can press metal chips of all types and set them to briquette diameters between 60 and 135 mm. We will be happy to find out which configuration is the right one for your application in a personal consultation.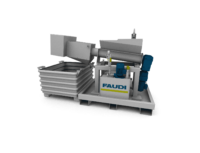 Faudi Screw presses
Our solution for dehydrating and de-oiling
Our screw presses are particularly suitable for the pre-dehumidification of residual materials in the metal-processing industries. For example, you can recover emulsions and residual oils and make them usable again. In the second step, the dehumidified waste products can be further processed and recovered in the briquetting press. However, you can also use our screw presses cost-effectively as a stand-alone unit – we will be happy to recommend a solution for your application.
Fields of application

:

OUR RECYCLING SOLUTIONS FOR YOU IN use
Recyclable material recovery

Briquetting of metal chips

Dehydration of grinding sludge

Recovery of residual oils
Frequently asked questions about our presses and briquetting machines
Let´s optimize your resource use
We would be glad to provide you with advice on the use of our briquetting solutions for metal processing.