Midstream Filtration for oil & Gas
System solutions for filtration and separation in the midstream sector.
Effective solutions for the midstream sector
For protection of pipelines and downstream equipment
Before injection into the pipeline, numerous filtration and separation tasks remain in oil and gas production. Upstream filtration is followed by midstream filtration such as liquid-gas separation, glycol dewatering, and sulfuric acid refining. In addition, the removal of solid contaminants is essential to ensure pipeline integrity and protect downstream equipment. We can provide you with the appropriate filtration and liquid separation solutions for midstream applications. We would be happy to advise you on the configurations that are best suitable for your needs.
Midstream Filtration by FAUDI
Your benefits with our solutions for oil and gas production
Reliability
Reliable processes in the midstream sector are crucial for problem-free pipeline transport and plant protection. Our filter systems meet the highest demands and ensure a maximum of process safety.
Diversity
From the separation of oil, gas and water to dehydration and acid gas removal – we offer solutions individually adapted to your midstream filtration from a single source.
Profitability and sustainability
With our filtration solutions, you ensure a long lifetime of your equipment, low maintenance requirements, and compliance with environmental standards. This benefits both your business and the environment.
Filtration Tasks in the Midstream Sector
One of the many different filtration and separation tasks in the midstream sector is liquid-gas separation. For example, to prevent downstream equipment such as turbines and compressors from breaking down and to prevent foaming in amine units, solids and liquids must be removed from the gas stream. Both coalescers and separators are suitable for this purpose.
Another task is the dehydration of glycol. This dehydration is essential for gas quality, must function smoothly to achieve production quotas, and must meet high standards of environmental compatibility. Technologies for this purpose include coalescers and activated charcoal filters.
And finally, sour gas desulfurization is also a mandatory process that requires a filtration solution. Commonly known as natural gas sweetening, this process involves removing hydrogen sulfide and thereby increasing the gas quality. Here, too, coalescers and activated charcoal filters can be used.
Are you looking for the perfect filter solutions?
We will be happy to consult you on the selection of filter systems best suited to your needs in gas and oil production – in midstream filtration and beyond.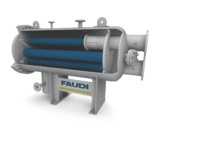 FAUDI coalescers
Our multifunctional separator for midstream filtration
Our coalescers are suitable for all filtration tasks in the midstream area of oil and gas production. They are used in the separation of gas and water as well as in dehydration and sulfuric acid refining. Separation is achieved by coalescence and gravity separation. We will be pleased to provide you with advice on your specific application.
FAUDI Separators
Our solution for liquid-gas separation
Just like the coalescers, our separators are also suitable for the separation of gas and water. Separation here is usually multi-stage via various separation, coalescer and filter stages. Our separators can be customized to meet your specific requirements.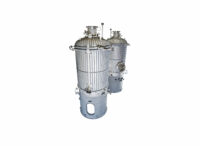 FAUDI Activated charcoal filters
Our solution for glycol dewatering and sulfuric acid refining
Our activated charcoal filters are used in midstream filtration both in glycol dewatering and in desulfurization as an additional filter unit. The activated charcoal bed reliably adsorbs unwanted substances on its large inner surface. We will be happy to discuss how the filter system can best be used for you in a personal consultation.
Fields of application

:

OUR FILTER SOLUTIONS FOR
MIDSTREAM FILTRATION
Liquid-gas separation

Glycol dewatering

Sulfuric acid refining
start your filtration project
with us now
We will be happy to advise you on which of our filter solutions for oil and gas will bring your project forward.