Regenerable micro-
filters in compact design
Powerful solutions for individual, space-saving requirements.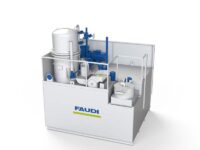 Compact filter systems
regenerable microfilter
Compact System
Our patented regenerable microfilters are available as compact filter systems. In the compact design, the advantages of RMF technology can be ideally applied to space-saving requirements. Therefore, the regenerable microfilter as a compact system is optimally suited for a machine-bound cooling lubricant supply, for example for machine tools.
The automatically operating cleaning systems for oil applications enable filtration without filter aids thanks to the patented RMF technology. They thus offer an alternative to classic precoat filtration.
RMF compact systems (for a machine tool) can be used economically for volume flows from 50 l/min.
Benefits
Your advantages
at a glance
Particularly low maintenance due to filtration without filter aids

Individual adaptation to the flow rate due to modular design

Cleaning (regeneration) without interruption of the supply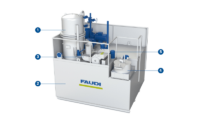 Design layout
Regenerable microfilter compact system
The regenerable microfilter compact system consists of the following components:
1. Filter vessel
2. Coolant tank
3. Magnetic separator
4. Centrifuge (secondary treatment)
5. Filter pump
How does a regenerable microfilter work?
Are you interested in a FAUDI regenerable microfilter compact system and would like to know how the filter works? We would be happy to give you an insight into the filtration principle.
Start into your next
PROJECT WITH US now
We are your contact for engineering, piping design as well as monitoring and control.
Regenerable microfilter compact system
Data and facts
Volume flow rate

50 – 350 l/min

Fluids

Oils, machining emulsion
Industries
Where they are used
Application areas
How they are used



Request & consultation
Start your next project now
Matching FAUDI solutions
compatible products