Precoat filter
Compact system
Ideal solutions for decentralized,
space-saving requirements.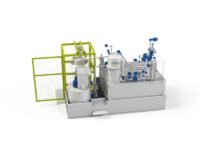 Compact filter systems
precoat filter Compact system
The FAUDI precoat filter types AS, AST and ASG are available in compact design. They are therefore perfect for supplying individual machines and/or small machine units, for example for grinding and honing processes. They are also used in the filtration of industrial circulating water, synthetic solutions, oils and in surface treatment.
Depending on the filter size and the filter medium, an individual adjustment of the filtration capacity from 50 l/min to 2,000 l/min can be achieved for the compact filter systems.
Practicable skid versions are available depending on the design and filter size.
Benefits

:

Your advantages
at a glance
Flexible operation, adapted to
different operating conditions

Facilitated maintenance and
repair

Flexible design

Suitable for different media

Individual expansion options for
different volume flows

Constant filtrate quality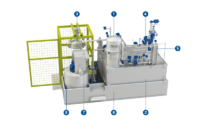 Design layout
Precoat filter compact system
The precoat filter compact system consists of the following components:
1. Filter vessel
2. Coolant tank (dirt and clean tank)
3. Pressure sludge filter with housing
4. Supply pump
5. Plate heat exchanger
6. WRL safety tank
7. Filter aid dosing unit
8. Precoat tank
HOW DOES A PRECOAT FILTER WORK?
Are you interested in a FAUDI precoat filter compact system and would like to know how the filter works? We would be happy to give you an insight into the principle of precoat filtration.
Start into your next
PROJECT WITH US now
We are your contact for engineering, piping design as well as monitoring and control.
Precoat filter compact system
Data and facts
Fluids

Oils, machining emulsions, process water, electrolyte fluids

Filter material

FAUDI cartridges in plastic and stainless steel

Filter area

1,5 – 23 m² per filter dome
Industries
Where they are used
Application areas
How they are used
Compact precoat filter system

FAUDI precoat filter system in compact design
Request & consultation
Start your next project now
Matching FAUDI solutions
compatible products