A filtration solution for
phospholipids production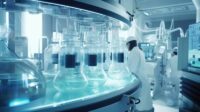 Our client
Our customer is an internationally active manufacturer of a wide range of phospholipids. Phospholipids are used in the pharmaceutical industry, in food supplements and high-quality cosmetic products. For the protection of a gas chromatograph, our customer has relied for decades on individually tailored FAUDI sieve basket filters which serve as a carrier for a filter bed.
The filtration task
Ensuring the protection of a
Gas Chromatograph
During the production of ethanol from biomass, residual components and undesired by-products remain in the substance, which sensitively interfere with the processes in phospholipid production. In this particular case, our customer wants to protect a gas chromatograph from these unwanted components.
In addition to reliable filtration performance, which is ensured by a customised insert with filter fill, easy operation and quick accessibility of the filter insert in the interior are important to the customer.
As the filters are located in a pre-production stage for pharmaceutical products and food supplements, the filter housings must also be easily accessible for cleaning operations and easy to clean.
Customized filter for ethanol
Technical data
Type of filter

FAUDI sieve basket filter type S21

Filtration fineness

< 50 µm
Find the perfect filtration solution
We will be happy to advise you and offer customized filtration technology for your filtration task.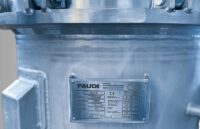 Our solution in detail
Sieve basket filter Type 21
For the central function of the sieve basket filter, the filter insert was specially designed to accommodate a filter bed. This reliably removes unwanted components in the medium flow.
In order to provide the operating personnel with quick access to the filter interior, the housing flange connection was designed with eye bolts. Compared to a conventional flange connection, such a connection promises significantly shorter assembly times. This means that downtimes of the filter can be minimised.
Thanks to an optimised design of the filter interior and a mechanical surface treatment to produce a fine finish, the filter can be cleaned easily and professionally.
Are you also interested in a customised sieve basket filter?
Advantages with the FAUDI solution
Minimization of downtimes
A flange connection with eye bolts reduces assembly times and thus the downtimes of the filter.
Easy cleaning
Due to an optimal design of the interior and a mechanical surface treatment, an easy cleaning of the filter is possible.
Individual design
We offer an optimal solution for our customer's specific problems through a precisely matched filter system.
What our customers say
"FAUDI found a very good solution for our specific problem. We were optimally advised throughout the entire project."
Project Impressions




We will be happy to consult you
Together we will find the ideal solution for your filtration task.