cleaning of rolling emulsion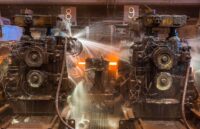 Rolling mill and steel industry
Our customer
Our client, a leading engineering company based in Japan, is known worldwide for its innovative solutions in the steel and metal industry. Additionally, this company has a strong commitment to sustainability and environmental responsibility by focusing on reducing emissions and increasing energy efficiency in the industry. As a supplier of our filtration technology, we are proud to contribute to this important mission.
The filtration task
Cleaning of rolling emulsion
In the steel and metal industry, the quality of the rolling emulsion is crucial. These emulsions are critical to the smooth rolling process, and impurities such as metal chips and debris can significantly affect product quality. Our customer was looking for a solution to efficiently remove these impurities while meeting the company's sustainability goals.
Customized cleaning system for rolling emulsion
Technical data
Type of filter

Magnetic rod separator
type MSA 15.000
Magnetic rod separator
type MSA 8.000

Filter medium

Rolling emulsion

Separation efficiency

> 100 µm

Flow rate

16,200 l/min
8,000 l/min
Let us find the perfect
filtration solution for you
We will be happy to advise you and offer customized filtration technology for your filtration task.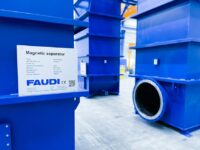 Our solution in detail
Magnetic rod separator type MSA
We have supplied three magnetic rod separators specially designed for the efficient cleaning of rolling emulsion. Two of them are our powerful FAUDI magnetic rod separators type MSA 15,000, which offer an impressive flow rate of 16,200 l/min. In addition, we have provided a FAUDI magnetic rod separator type MSA 8,000, which achieves a flow rate of 8,000 l/min.
The FAUDI magnetic rod separators use axially magnetised hard ferrite round magnets, which offer a higher recording capacity compared to competitor products. These are permanent magnets that retain their static magnetic field permanently (the magnetic coercivity (jHc) of these magnets is 235 – 290 kA/m). Such separators attract ferrous particles with the help of a magnetic field, causing them to remain attached to the surface of the magnetic rods. As a result, these particles can then be easily removed and disposed of.
Are you also interested in a customized magnetic rod separator?
Advantages with the FAUDI solution
Quality improvement
Our solution has significantly improved product quality by removing impurities from the rolling emulsion, thus minimizing defects on the rolled products and plates.
Extended service life
Cleaning the rolling emulsion has extended its service life, reducing the need for frequent replacement and thus lowering the associated disposal and replacement costs.
Energy efficiency
Our advanced magnetic rod separators support our customer's efforts to improve energy efficiency and reduce the environmental footprint in the steel and metal industry.
what our customers say
"Choosing FAUDI magnetic rod separators has helped us to significantly increase the cleanliness, efficiency and sustainability of our rolling mill operations while meeting our ambitious environmental targets."
Project Impressions
Our magnetic rod separators for cleaning rolling emulsion ready for dispatch












We will be happy to consult you
Together we will find the perfect solution for your filtration task.