Energy optimization
EASY & EFFICIENT ENERGY – The FAUDI Savings Concept.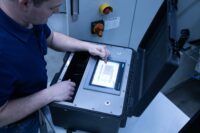 Energy optimization
Because environmental protection is in our DNA
Sensible energy management is essential today and everyone knows that energy efficiency is more than just a favor to the environment. In the field of filtration processes, the energy consumption of a filtration plant represents a significant cost factor. To help you better utilize your potentials, we have developed a concept for the energy optimization of your plants. Our FAUDI experts are able to check your FAUDI filter system as well as systems from other manufacturers and optimize them with regard to their energy use. This results in considerable savings in energy costs. In addition, the reduction of CO₂ is an important contribution to environmental protection.
In addition to the electrical energy and the resulting lower heat input in the medium, the reduction of compressed air consumption is decisive. Further advantages are reduced wear and maintenance as well as minimized noise. Financial support is provided by a subsidy program of the German Federal Office of Economics and Export Control.
We will be happy to help you make your energy use more efficient.
The Concept
EASY & EFFICIENT ENERGY BY FAUDI
EASY

Recording of the current status, consultation of the work to be carried out with subsequent recording and measurement of the energy consumptions

EFFICIENT

Evaluation of all recorded measurement data and preparation of an energy saving concept as well as an offer for the implementation of measures

ENERGY

Together with you, we evaluate the energy saving concept as well as additional modernization options
Advantages
Why you profit with
easy & Efficient energy
Cost savings
Low energy costs due to reduced power consumption and reduced heat input in the medium
Compressed air
Significant reduction in compressed air requirements through demand-based compressed air generation
Maintenance and wear
Reduced wear and maintenance due to optimal adaptation of your filter system and use of high-quality components
Support program
Financial support through BAFA funding program: We provide you with the necessary measurement data for application
Apply for funding now!
Our highly trained FAUDI service technicians will help you apply for the subsidy program and are available with the complete measuring equipment for your energy optimization.
Our Services
For optimal energy utilization
The basis is always the direct dialog between you and us.
Verification of plant utilization and all relevant parameters

Initial assessment of possible starting points for energy optimization

Recording of current energy consumption, if necessary installation of additional measuring technology

Evaluation of the measurement results for the application of the support program

During data acquisition: inspection of the system for general condition

Testing for end of life components, partial modernization, maintenance, possibility of remote maintenance and connection to IoT platform

Receipt of a quotation for the optimization work as well as other modernization measures

Application for the funding program and subsequent realization