Water treatment in the chemical industry
Our solutions for filtration and recovery of water in the chemical industry.
Reliable filtration in the chemical industry
Challenges of filtration and separation in the chemical sector
Water treatment in the chemical industry faces its own unique challenges: High quality demands, strict wastewater standards and other legal regulations, as well as constant change in the industry. The filters used for water treatment must therefore meet high technical standards. Thanks to our expertise in the chemical industry, we have developed innovative filter solutions that adapt to the special needs of water treatment in this demanding industry. With the broad range of FAUDI filters, we will work together to find the right solution for your company. From pre-treatment and raw water treatment to water recovery and wastewater filtration – we ensure the efficient and environmentally friendly treatment of your process, production and wastewater.
Water filtration by Faudi
This is what our water filter systems do for you in the chemical industry
Sustainability
Our filter solutions ensure the water cycle is as closed as possible through water recycling, thus reducing your water consumption and ensuring that you comply with applicable environmental regulations.
Integrated solutions
We take care of all types of water needed and produced for you – from process water to wastewater treatment – so you get all filter solutions from a single source.
Highest quality
With our many years of experience in the chemical industry and the high standards we set ourselves, we ensure high-quality, individual solutions for your company using state-of-the-art technology.
Looking for a perfect filter system solution?
We will be happy to advise you on the choice of water filters most suitable for you in the chemical industry.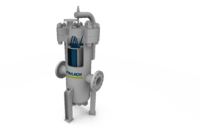 Faudi Sieve cylinder filters
Our solution for the separation of liquids and gases
Sieve cylinder filters are used for the filtration of more heavily contaminated liquid media and gases. They are equipped with several sieve cylinders and thus offer a large filter surface. In the chemical industry, for example, they can be used as protective filters. We can add customised designs to our standard configuration so that you can use the filter system for other filter finenesses and materials. We will gladly assist you with advice.
Faudi Sieve basket filters
Our solution for coarse and pre-filtration
Sieve basket filters are suitable for coarse filtration of contaminated water in the production process. The contaminants are retained in the filter basket and the resulting change in pressure also allows the degree of contamination to be measured. In refineries, they are mainly used for pre-filtration or as protective filters, for example for pipes, pumps or measuring devices. We would be pleased to recommend to you which of our basket filters is the most suitable for you and where you can use it most effectively.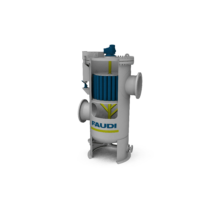 Faudi backflush filters
Our solution for the filtration of lubricants and oils
Backflush filters are particularly recommended for the filtration of all non-water-miscible liquids, such as cooling lubricants and oils. Due to the use of several filter cartridges, they do not require any filter aids and clean themselves. If one filter cartridge is too dirty, the backwash is activated and the dirt is drained off; in the meantime, the other cartridges are used. The number of filters can be individually adapted to the application. We look forward to helping you decide which configuration is best suited for your filtration task.
Faudi cartridge filters (Type C34)
Our solution for fine filtration
Cartridge/candle filters are frequently used across all industries when fine to very fine particles are to be filtered. The name is derived from the shape of the filters, which are similar to a candle. They are suited for both surface filtration and depth filtration in gas and oil production. Since the structural design can be individually adapted for a wide range of filtering tasks, particle sizes, temperatures and dirt-holding capacities, it is ideal for many applications.
Application areas

:

Our filter solutions
for water treatment in the chemical sector
Supply with process water

Recycling of production and waste water

Protection of heat exchangers and instrumentation

Pre-treatment of influent waters
Let´s start your filtration project
We will be glad to consult you which of our products will help you move forward.