An individual filtration
system for reactor protection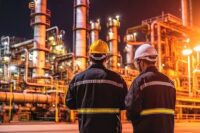 Refineries, oil and gas industry
our customer
A filtration system for reactor protection was installed at a refinery in Pancevo to optimize filtration processes and protect downstream reactors. Our customer, a major player in the oil and gas industry in Serbia, operates the refinery. As an important part of the oil refining process in the region, it was crucial for them to maintain the quality of their products and meet the filtration requirements.
The filtration task
A FILTRATION SYSTEM
FOR REACTOR PROTECTION
The challenge was to treat vacuum gas oil (VGO), heavy gas oil (HGO) and heavy coker gas oil (HVGO) with a filtration fineness of 20 micron while ensuring that downstream reactors are protected from contamination.
Technical data
Type of filter

Module filter type F29

Filter medium

Vacuum Gas Oil (VGO), Heavy Gas Oil (HGO), Heavy Coker Gas Oil (HVGO)

Filtration fineness

20 micron

Filter materials

Slotted tube filter elements

Design pressure

up to 26 bar (g)

Design temperature

up to 250 °C

Filtration capacity

287 m³/h
find the perfect
filtration solution
We will be happy to consult you and offer you customized filtration technologies for your filtration task.
Our solution in detail
FAUDI module filter system type F29
Our team of filtration experts developed and implemented a filtration system for reactor protection based on the proven modular filter system type F29, using parallel-connected backwashable cartridge filters grouped within modular filter banks. The heart of each filter is the filter insert with several cylindrical slotted tube filter elements.
In order to achieve the best possible cleaning efficiency even with low pressure differences and limited fluid volumes during backwashing, a flow distributor was additionally installed inside each individual cartridge to optimally distribute the backflush volume flow over the complete cartridge length.
Are you also interested in a customized modular filter system?
Advantages with the Faudi solution
Extended service life
Due to their design, slotted tube elements are extremely robust and durable filter media that also have good backwashing properties. This makes them a sustainable solution for our customer.
Modular design
The smart modular design of the system not only eliminates transport and handling problems, but also allows additional filter units to be added during later operation for the purpose of capacity expansion.
Reliable filtration
Our modular filter system ensures continuous and fully automatic filtration operation with a filtration fineness of 20 micron, which improves product quality and refinery process performance.
what our customers say
"Not only national and international regulations were applied and combined, but also our specific requirements were always taken into account. FAUDI supplied us not just with the filter, but with the entire plant construction including instrumentation, measurement & control technology, as well as control system. In this way, we received everything from a single source, which was very satisfying for us."
Project Impressions
Our filtration system for reactor protection.
Module filter system type F29 for HCGO filtration

Module filter system type F29 for HCGO filtration

Modular filter system FAUDI
We will be happy to consult you
Together we will find a perfect solution for your filtration task.