Upstream Filtration And
Separation of oil & Gas
Efficient solutions for the filtration of injection and offshore feed water.
Reliable solutions for the upstream sector
For cost-effective and environmentally friendly gas and oil production
The filtration tasks in oil and gas production are numerous – and essential for a smooth production process. In the upstream area, for example, there is the filtration of injection water for oil production and the filtration of offshore feed water. FAUDI offers a range of innovative solutions for upstream filtration that ensure excellent process stability and compliance with high production and environmental standards. We will be happy to advise you on the solutions that are best suited to your needs.
Upstream Filtration by FAUDI
This is what our filter systems can do for you in the upstream sector of oil and gas production
Economic efficiency
The use of our filtration solutions increases profitability in oil and gas production – for example, through particle-free injection water for more efficient oil production, or a minimized risk of downtime for your plants.
Sustainability
With our upstream filtration in oil and gas production, you comply with environmental regulations and increase the service life of your equipment. In doing so, you also contribute to a more sustainable production process.
Reliability
Downtime in gas and oil production is particularly expensive. Our filter systems and separators meet the highest quality standards and ensure high process reliability through their high-performance filtration.
The importance of filtration
in the upstream sector of oil & gas production
In upstream gas and oil production, filtration is essential to avoid costly downtime, comply with environmental regulations, and make the process as efficient as possible. Filtration of injection water, for example, is essential to the production process. This water is injected into the porous stone in which the oil is embedded in order to increase the falling pressure in the production process again if necessary. If there are too many particles in the water, they settle into the spaces in the stone and make it difficult for the injection water to be injected and flow through – thus affecting oil production. In offshore production, boiler feed water filtration is also important to avoid exceeding limits and prevent boiler problems. In addition, filtration systems protect against wear of pumps, foaming, or fouling of heat exchangers.
Another example is the cleaning of extraction water, which must be separated from the crude oil – and after filtration can be used as injection water. In this way, filtration ensures a long service life for plants and closes production loops.
Looking for the perfect filter solutions?
We will gladly assist you in selecting the right filter systems for your needs in gas and oil production – in upstream filtration and beyond.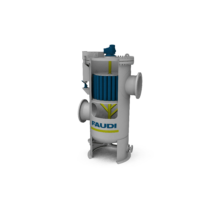 FAUDI backflush filters RSF F30
Our solution for the aid-free filtration of injection water
Our backflush filters are suitable for variable filtration capacities from 15 to 12,000 m³/h due to their modular design. These filtration solutions do not require any filter aids and clean themselves by means of backflushing. Due to the parallel arrangement of several filter cartridges, only a small number of which are backwashed one after the other, cleaning takes place without interrupting filtration. In the oil and gas industry, our RSF 30 backflush filter is particularly suitable for upstream filtration of injection water. We would be happy to plan the best configuration for your application together with you.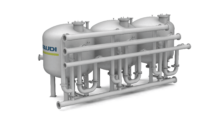 FAUDI Layer filters P62
Filtration of suspended solids in injection water
Our layer filter can be used for all tasks of suspended solids filtration – also for filtration of injection water, which should contain as few particles as possible during injection. Filtration is carried out by passing through several layers of different filter media with different particle sizes. Due to the modular design, the filter system can be individually adapted. We will be pleased to advise you on the best configuration for your application.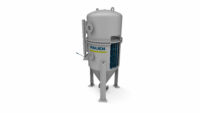 FAUDI Microfilters
Our solution for offshore feed water
Our innovative regenerable microfilter is suitable for the filtration of offshore feed water. The use of the microfilter in combination with a subsequent reverse osmosis is recommended. Our filtration solution is characterized by a high dirt-holding capacity and by the fact that it can be completely regenerated by means of backwashing. We will be pleased to consult you on the use of our filters for the cleaning of your boiler water.
Fields of application

:

OUR FILTER SOLUTIONS FOR
ONSHORE AND OFFSHORE PRODUCTION
Filtration of
injection water

Filtration of
offshore feed water
Start your Filtration project
with us now
We will be happy to recommend you which of our filter solutions for oil and gas will bring your project forward.